In a culture of "go, go, go," rest tends to go by the wayside. But this is not good. It's not the way we were created to function. Join me as I teach you a little bit of what I've learned about Sabbath as a Christian mother of little children. Then, use this guide to make a specific plan, and give it a try!
Learning to live in the rhythm ordained by God will no doubt add abundance to your life.

What's Included:
Printable Sabbath Planning Guide
Audio teaching explaining the theological roots and modern day applications of Sabbath, plus how this looks for me practically
"55 Ideas for How to Rest on Your Sabbath Day as a Mother" .pdf
Beautiful and inspiring scripture cards about rest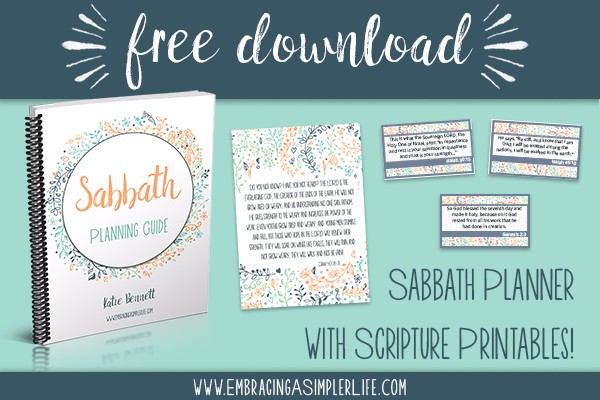 Note: when you sign up for this free guide, you will also receive emails from Embracing a Simpler Life to help you do just that. Your information will never be shared and you can unsubscribe at any time.